Analyze the status of all body functions to identify the real underlying problems you are facing and the risk of getting specific ailments. Continuous monitoring of your health status will also indicate any nutritional shortages, identify what supplementation is needed, how much and when.
* We enable the layman to analyze & understand their own health status!
A treatment strategy needs to address the real underlying problem (that has manifested itself as a symptom) without invading natural organ and gland function. By using such a strategy you eliminate the need for medication that is alien to the body and creates side-effects. This is the optimal therapy approach for complete health and wellness!
*A therapy that is suited to ANY person's lifestyle as treatment is carried out while you are sleeping.
Water is a source of oxygen for better cell energy (as much as 30% more oxygen) to create better cell communication and organ functionality, resulting in a stronger immune system. Spring water is much more energized than filtered and tap water, and has far reaching health benefits.
* We have your daily hydration solution!
STEP 4 - MENTAL PROGRAMMING
By now you probably know that your beliefs are created by your upbringing and either limit or enhance your natural ability. This mental programming replays contentiously to shape your perception. Your mind is strong enough to alter your health status and it has been well documented in conventional medicine research, known as the placebo effect.
* We enable you to reshape your mental programming.
Conventional therapies are extremely expensive and YOU PAY with side-effects.
Alternative medicine sometimes leads you down the wrong path due to a lack of understanding.
Where's the middle-ground?
ENTERING THE WORLD OF SOUND
Sound has a measurable and distinct vibration.
SOUND INFLUENCES YOUR ENVIRONMENT.
Sound has the ability to change your environment. Take a look at these flames.
Just see the effect of sound changing the environment with a visible manifestation. Everything within our environment and our bodies react or respond to distinct sound vibrations.
Using this scientific fact, it becomes very clear how Focused Ultrasound is able to rejuvenate the body to regain health.
WHY DOES SOUND IMPACT YOU?
Sound's distinctive vibration manifests visually and this manifestation is called resonance.
NASA records planetary sound frequencies to identify their composition. They determine this through sound which is called vibrational resonance. In the same manner, by recording the body's sound vibrations we have the ability to analyze and report on the cells' and organs' functionalities and stress levels.
The sound vibration produces the real and immediate health status of cells and organs long before conventional blood tests can identify anomalies. By using the distinctive sound vibration we have the ability to guide the compromised resonating sound vibrations of cells, organs and/or functions to regain health.
If music has an effect on the body's vibration that changes it's chemical composition it will manifest in your mood.
Just imagine how powerful Focused Ultrasound can be on your health.
For the entire family.
WHAT IS FOCUSED ULTRASOUND?
It is the reshaping of distinctive sound vibration transmitted to stimulate and guide cell function back to health.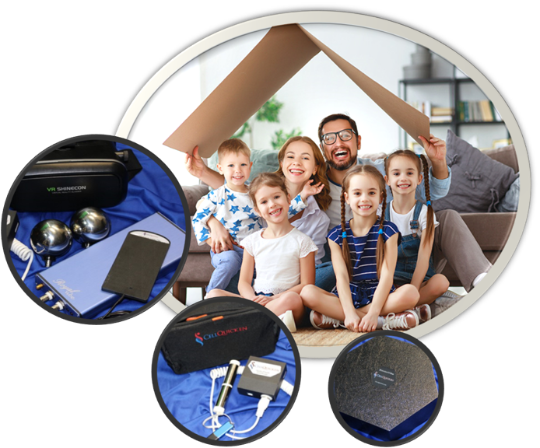 CELL RESONANCE FOCUSED ULTRASOUND
Ultrasound is a non-audible sound that is shaped to the resonance of the cell. By transmitting the distinctive sound vibratory resonance it will impact cell function which manifests into complete health.
1. Analysis (Quality of Health Analyzing Kit)
Record and report on distinctive sound vibration transmitted by stressful cells associated with disease to create a meaningful strategy of therapy.
Nutritional shortages experienced by the cells are also expressed. The easy-to-understand report gives you access to a bi-weekly (every 2 weeks) comparison to monitor and evaluate progress.
2. Therapy (RoyalVibe Focused Ultrasound)
The indoctrination of the cell resonance to obtain correct and optimal functionality is mostly done while sleeping.
With medical history and recorded cell vibration, an individualized ultrasound prescription is generated manually in Germany by CellQuicken's medical division.
3. Hydration (Envirovibe water restructuring)
The water you drink can be energized by stripping the negative bonding by introducing unique sound vibrations for better hydration within the cells to enhance cell communication and oxygen uptake.
Water molecule bonding is created by the magnetic fields of the positive and negative ions determined by the energy vibration.
4. Mental programming (brainvibe)
Brain power is a mental belief and perception created by neuropathways that can be rewired to influence your potential for health, wealth and happiness.
Neuropathways form your belief system and frame of reference. If you believe you cannot achieve or perform, you are probably right, as the Neuropathways withhold the ability to perform or achieve. The BrainVibe will stimulate your set limitations by reprogramming your mindset.